If you have Normal Hair, then your hair is neither greasy nor dry. It holds its style and shine. You should try jojoba oil, almond oil and amla oil for the normal hair type.
If you have Dry Hair, then your hair is very dull, tangles easily and is prone to split-ends. For the dry hair type you should use almond oil, jojoba oil, coconut oil, sesame oil, mustard oil and cocoa butter oils for the dry hair type.
If you have Oily Hair, then this type of hair looks greasy which is generally because of over production of sebum by the sebaceous glands. You should use olive oil, sesame oil, and jojoba oil.
If you have Dandruff Hair, then Essential oils can help you in it. The best essential oil for treating dandruff is tea-tree oil. You could also try out bhringraj oil.
You should not oil to your hair if the climate is humid. Also avoid oiling your hair if your skin texture is oily as the scalp would produce oil naturally. If you work outdoors for long hours, then do not keep the hair oily as it will attract dust and cause to hair fall.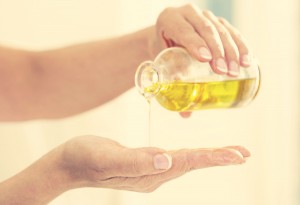 Oiling to hair contributes to relaxation, curing headache and migraine by giving relaxation. Oiling to hair also improves blood circulation and relaxes the mind and most important to promote hair growth. Do you know what is the right way to comb and brush the hair
After oiling your hair, wrap a hot, wet towel around it for 2 to 3 minutes to get it absorbed in the scalp. But always check the temperature of the towel shouldn't too much. Because too much heat is harmful to your hair.
If you already have oily hair, do not massage your hair with more oil. Mix Vitamin E in any oil and massage. It's superb for hair.