Hello girls, Today I am sharing some benefits of almond oil for hair. Personally I was facing hair fall issue and tried so many hair oils but didn't work and then finally I have started using Kesh king hair oil and as well as almond hair oil and finally these hair oils works for my hair. I really felt difference after using these two. I will be reviewing review and experience with kesh king hair oil soon.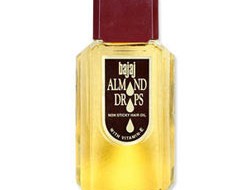 Let me start with the nutrition details of almonds. As most of us know that Almonds are in rich in Vitamin E, Vitamin B complex, potassium, zinc, copper, riboflavin, fiber, calcium, iron and many others therefore these amazing almonds getting used in many home remedies for hair growth due to its amazing benefits for hair care. If you do daily massage of the hair with almond oil then it nourishes the hair and make smooth the uncontrollable cuticles. I follow it for twice a day.
I have read many blogs and sources claims that regular usage of almond oil for hair makes the hair longer, stronger and shinier. According to experts, the oil especially counters the problem of hair thinning and makes them thick. If you are facing hair fall problem then almond oil also works as a natural solution.
For the Scalp
(Here is the method which I follow)
Massage the oil into your scalp for 15-20 minutes, then massage a bit into the hair.
Allow the almond oil to sit for at least 45 minutes, but you can also leave it in overnight.
After it has been allowed to sit, rinse it away with your regular shampoo (I have started using Patanjali Kesh Kanti Milk Protein Hair Cleanser Shampoo from last 1 week and believe me its awesome… it works for my hair).
For Hair Growth
Combine 3 tablespoons of almond oil in a bowl with a torn hibiscus flower and three tablespoons of castor oil.
Warm the mixture slightly and apply it to the scalp and massage it in for 10 minutes.
Wrap your head in a towel and leave the mixture in place for an hour.
Then wash the oil away with shampoo.
You can repeat this twice a week for a few months to see thicker hair start to grow.
You can also have a look on Ways and tips to oil your hair correctly
For Split Ends
Those that suffer from split ends can massage it into the hair to help keep your hair from splitting.