When you were deciding to go out for a lovely travel and have to be on time in office. After that an adventure is stuck in mind, I have to do packing, that's the time of flight, and a reminder for the things needed to be done before travel. In every instance, it feels like time is short and there is so much work to handle.
Be Contended When It's All About Packing
What includes style in all this? You don't need to add too much burden on yourself while packing a lot of suits. If you do so you will probably spend lot of time in managing your time while the time you need to spend smoothly, quietly with nature or anything. You need to understand the situations you will bear during your whole planning for a tour.
This amazing thing will add value to your closet as well as your brief case, if in mode of writing travel diaries.  Yeah! If you've guessed it, 'you are perfectly right'.
Leather Jacket of Your Choice
I'm talking about any kind of animal skin coat or simply you can say a leather jacket of your choice.
Leather jackets will add value to your fashion style as well as to your suitcase. It will decrease the burden of your too much cloth as it will give you an easy way of looking great as whole adventurer. You can modify leather jacket for men or women style with adopting a good combination of variant jeans, trousers, shirts, T-shirts and boots.
Well-Trimmed Hair Style
When talking about leather jacket how one can neglect hair style?  No! Men's don't ignore it at all. You can adopt a well-trimmed hair style with dark shade leather jacket.
It is observed that people tend to have lot of luggage with them but they find it quite hard during whole journey. Why bothering yourself when on an adventure travel?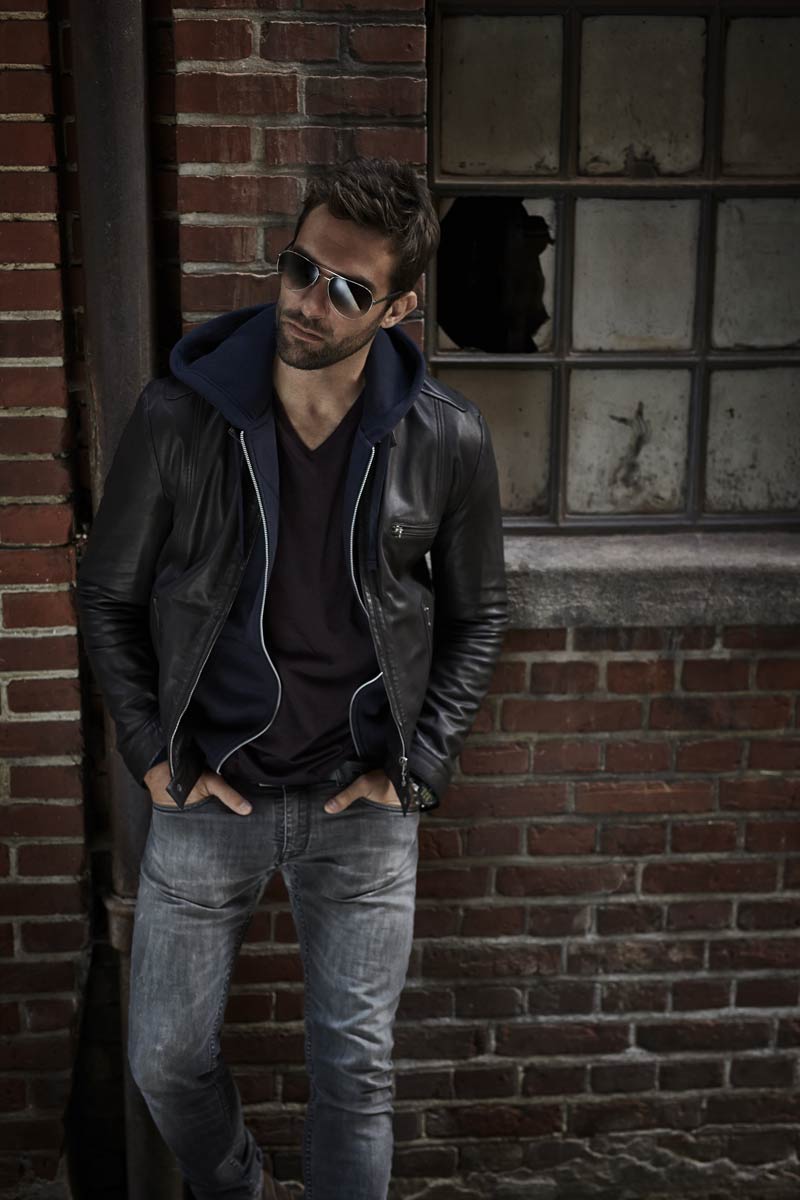 Packing- Make It Trouble-Free
Make it easy by reducing too much outfits with you. Decreasing this will also give you an easy feel you can wear leather jacket while on the way to your destination hotel or place you have decided to visit. A note "it's all about when you are on a journey enjoying with yourself.
Indiana Jones leather jacket with dark shades will also help you looks cool. You can choose it according to your choice as well. But light colors aren't preferable when you're in travel. Because it will get dirty and will show stains clearly until you do wash it.
Now a day's people are so much aware of their surroundings. Every individual is using social media platforms and different mediums to know more about what's going on in politics, entertainment, sports, and fashion trends. There's really no end to any of them and many others that I haven't mentioned here. Leather jacket's case is not exceptional either.
These days people are more conscious about their emergence. They prefer to look smarter, cool, elegant and charming at the same time. Wait! You are still at the stage where you just really didn't think like what I have said. Is It? What are you waiting for?  No worries at all.
Color Psychology for Your Facade
Here you will easily understand the color psychology for your facade. You will look entirely different with leather jackets for men, if you understand which color is your favorite and how you can utilize it for yourself. What is your skin tone? How you can exclaim about your personality with the colors you most probably wear. It all is just a matter of fact. We got confuse about how to look smart, perfect and trendy at the same time. It's not that hard as it seems to be. Really, after reading this you'll realize how slight changes in selection can lead you to the best level of your looks.
Leather Jackets Are Tough
Leather jackets are hard, rigid, tough and dark. Did you get what I have explained? It means when buying leather jackets, it may be quite hard to find the best version of color for you according to their dark shades. Dark colors are good for fair, whitish and fair people.
Dark Brown:
It's the most often used color of leather jackets as dark, light, and soft shades of its theme. It is most often adopted color in leather jackets for men. It denotes a friendly behavior, down to earth. It also relates to security, protection, and comfort and material wealth.
Rigid Black:
This color is the most universal color in all and the favorite one weather we talk about Men or women. Black color in leather jackets gives the touch of elegance, universality, fondness and mystery.  It actually symbolizes authority and strength with its hard dark shade. If you are a lover of black shade, you show these factors in your personality and love to wear black leather jacket with an attitude.
Hard Red:
It's the color which shows the strong power, triggers someone's attention. If you can wear this sharp, blowing attentive red color, you seem to be more confident in every situation. It is the choice of passionate people. It looks good with its warm feel.
We can differentiate these colors in their light, dark, and darkest shades according to your choice.
I just summarized the top best leather jacket colors used very often so that you can easily understand what is your passion to wear animal skin coat, and looks marvelous.