Detox water for weight loss – it works – Must Try this flat tummy water
If you are on the journey to weight loss, then you don't need to just drink plain water. In fact, you can make that plain water delicious. You need to just try this detox water and it works like magic. Trust me it really works and we can call it… flat tummy water.
This detox water for weight loss will help you to flush all toxin from your body. I have tried many different flavors of detox water but let's start from this very easy recipe of detox water.
You need following ingredients to make this flat tummy water
1 litre water
1 tbsp grated ginger
1 medium size cucumber (sliced)
1 lemon (sliced)
3 to 4 leaves of Mint
Pinch of cinnamon powder
Mix above all these ingredients in mason jar and refrigerate it for overnight and have it next day 🙂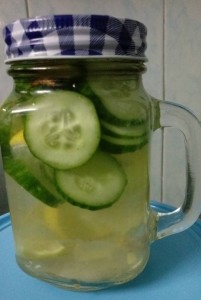 This detox water contains ingredients like
lemon that helps to flush harmful toxins
mint which aids in digestion
cucumber which contains anti-inflammatory properties
ginger which is a natural pain reliever & aids in digestion
cinnamon reduce blood sugar and helps carbs process healthier
Try this detox water atleast for 3 days constantly and you will defiantly see the magical results in you. Also don't forget to try this magic drink at night
If you tried it then let us know your experience in comment box.